Survival hopes for Loch of the Lowes osprey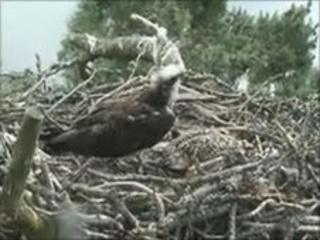 A sick osprey in Perthshire that was thought to have only hours to live appears to be making a recovery.
Thousands of webcam viewers around the world have been watching the progress of 25-year-old Lady, the oldest known breeding osprey in the UK.
The bird, which is nesting at the Loch of the Lowes Wildlife Reserve near Dunkeld, stopped eating for three days and had become very weak.
But the reserve said they were now hopeful for her survival.
Ospreys usually live between eight and 15 years and are estimated to produce about 20 eggs during that time.
But Lady has produced 56 eggs and succeeded in raising 46 chicks to fledging.
She has also developed an international following through the webcam which is trained on her eyrie during breeding season.
Reserve manager Peter Ferns said the osprey had now begun feeding her chicks again.
'Phenomenal bird'
He wrote on the Scottish Wildlife Trust blog: "What a great sight to come into this morning - our Lady feeding the chicks. She is getting stronger and stronger all the time and we are more hopeful than we have been for her survival.
"But I would like to stress that whatever happened to her at the weekend could have long-term effects on her."
On Tuesday, Lady began eating fish brought to the nest by her 10-year-old mate.
A spokeswoman for the trust said staff at the reserve were "quite excited" at the progress she was showing.
She added: "She's definitely a phenomenal bird."
On Monday, the trust warned it expected the bird to die on Tuesday or Wednesday.
She had stopped eating and had taken on a "sunken appearance" and had poor co-ordination.
Many worried webcam viewers contacted the trust on Sunday when Lady first showed signs of sickness.