Berkshire hospital trust pilots new infections test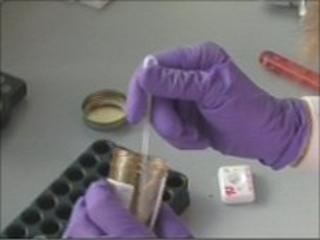 A Berkshire hospital trust is piloting a new system of testing for the superbug, Clostridium difficile.
The Royal Berkshire Hospital in Reading said the test allowed doctors to uncover "a lot of infection that would otherwise go undetected".
Currently, most hospitals use a two-stage test to determine if patients have C. difficile but the Berkshire trust is using a three-stage test.
NHS trusts have a target to cut C. difficile infections by 30% by 2010/11.
The bacteria are present in the gut of as many as 3% of healthy adults and 66% of infants.
Best care
It rarely causes problems in healthy people but can lead to illness when the normal balance of bacteria in the gut is disrupted, for example with the use of certain antibiotics, and it is the leading cause of hospital-acquired diarrhoea.
Claire Honor, the hospital's infection control manager, told BBC News: "If previously we were missing 50% of cases in our laboratories that meant that we were not giving the appropriate care.
"Above and beyond any target culture is delivering the best care to patients."
UK researchers believe the rise in Clostridium difficile infections in recent years is due to genetic changes rather than dirty hospitals.
A study which compared an historic strain and a strain from the outbreak at Stoke Mandeville hospital in 2003 found it had evolved to be more virulent.
Stoke Mandeville Hospital saw two major outbreaks of C. difficile between 2003 and 2006 that caused 35 deaths.