Nurse in iconic WWII photograph dies aged 91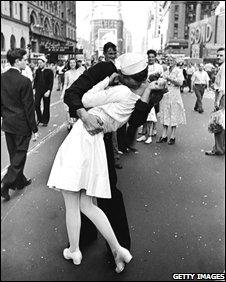 A 91-year-old who said she was the nurse photographed being kissed in Times Square in New York at the end of World War II has died.
Edith Shain said she was grabbed and kissed by an unknown American soldier on 14 August 1945.
The picture by Alfred Eisenstaedt was taken as people celebrated Japan's surrender, and it became an iconic image.
The identity of the sailor remains disputed.
Ms Shain died at her home in Los Angeles on Sunday, her family said.
The identity of the nurse in the photograph was not known until the late 1970s when Ms Shain wrote to the photographer saying that she was the woman in the picture.
However, Eisenstaedt, who died in 1995, said he was never sure who the woman in the picture was.
Recalling the famous kiss, she said she could not identify the man.
"I went from hospital to Times Square that day because the war was over, and where else does a New Yorker go?
"And this guy grabbed me and we kissed, and then I turned one way and he turned the other."
Ms Shain returned to the scene of the kiss at the head of a group of WWII veterans during the New York Veterans Day parade in 2008.
She then said it was thrilling to be back in New York and "see the street where we had been when World War II was over, when that marvellous feeling was flooding the nation".