Stephen Fry and Hugh Laurie make TV comeback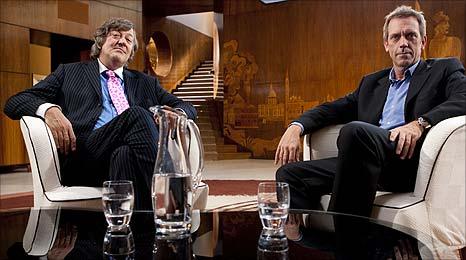 Stephen Fry and Hugh Laurie are to reunite for a TV special to mark the 30th anniversary of their partnership.
The programme, to air on TV channel GOLD this autumn, will see the former double act reminisce about their friendship, careers and sketches.
The former double act met at Cambridge in 1980 and went on to appear together in Jeeves and Wooster, A Bit of Fry and Laurie and the Blackadder series.
Fry said it had been "a great joy" to be reunited with his old comic partner.
"I am delighted to be given the opportunity to retread the 30 years Hugh and I have known each other and worked together," he said.
"I hope GOLD viewers enjoy watching us grow older and older."
The one-off show - which has the working title Fry & Laurie: Re-United - was flilmed at Eltham Palace, an Art Deco home built on the site of a royal residence in south-east London.
It follows earlier GOLD retrospective programmes on Fawlty Towers and Blackadder.
Hugh Laurie is best known now for his role as a cantankerous doctor in House, for which he has won two Golden Globes and two Screen Actors Guild awards.
Fry, meanwhile, is an ubiquitous presence thanks to his radio and TV appearances, best-selling books and wide Twitter following.
Related Internet Links
The BBC is not responsible for the content of external sites.