Warhol self-portrait among Polaroid sale records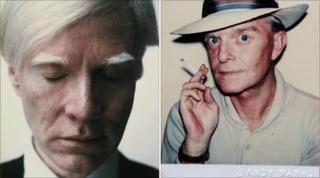 A 1979 Andy Warhol self-portrait, which fetched $254,500 (£170,800), was among photos sold at a New York auction of the Polaroid corporation's collection.
It was one of 1,200 photos in the Sotheby's sale, ranging from classic Polaroids to more traditional prints, collected by the firm over the years.
Clearing Winter Storm, Yosemite National Park by Ansel Adams fetched a top price of $722,500 (£484,900).
The sale was ordered by a court after the firm filed for bankruptcy in 2009.
It brought in $12.4m (£8.3m), exceeding the pre-sale estimate of $10.7m (£7.2m).
Adams' moody 1944 black-and-white print of the rugged terrain of Yosemite in California - which had been estimated to sell for between $300,000 and $500,000 (£201,000 and £335,000) - fetched a record for the US nature and landscape photographer.
It beat the $609,600 (£408,700) paid for his 1941 work Moonrise, Hernandez, New Mexico.
Sotheby's said the sale, selected from the 16,000-image Polaroid collection, featured the largest selection of works by Adams ever to come to market.
Adams, who died in 1984, was also a consultant at the Polaroid company working with founder and inventor Edwin Land to build the collection.
"Ansel wanted a larger collection to show creativity in photographs," Sotheby's photography department director Denise Bethel said.
"In the 50's and 60's, Ansel Adams started sending out cameras to artists for feedback.
"The artists would exchange their prints for the use of Polaroid cameras."
Artist records
The record for a Warhol photograph was twice broken in the auction, with Self-Portrait (Grimace) selling for $146,500 (£98,200) before Self-Portrait (Eyes Closed) sold for $254,500 (£170,800).
Fourteen artist records were set in total including those for photographs by Lucas Samaras and Harry Callahan.
Ultra-Large (Hands), by experimental artist Samaras, sold for $194,500 (£130,400).
It was taken on a 1m by 2m Polaroid camera which needed the assistance of several technicians.
Non-Polaroid work Chicago (Trees in Snow), by Callahan, sold for $254,500 (£170,600).
The Polaroid camera came on the market in 1948.
Denise Bethel, of Sotheby's, said the invention had influenced "the history of photography, aesthetics and contemporary art".
"Polaroid raised everyone's expectations for instant results," she said.
"It prepared the digital age, it was a psychological step to the digital world."
The Polaroid company was bought up by a group of investors last year.