Bank of England member votes for interest rate rise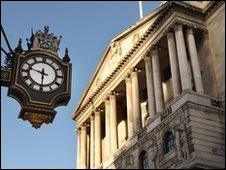 A member of the Bank of England's Monetary Policy Committee (MPC) has called for a rise in interest rates for the first time in almost two years.
Andrew Sentance voted to lift rates to 0.75% from the record low of 0.5%, due to stubborn inflation, minutes show.
It was the first call for a UK rate rise by an MPC member since August 2008, and will surprise economists, who expected another unanimous decision.
The other MPC members called for rates to be held at its June meeting.
The 7-to-1 majority ensured rates were kept at 0.5% for the 15th month in a row.
The Bank of England also decided not to inject any more money into the UK economy under its policy of quantitative easing (QE).
Inflation hit a 17-month high of 3.7% in April, and though it fell back to 3.4% in May it remains well above the Bank's 2% target.
Mr Sentance argued that the persistence of inflation had cast doubt on the Bank's prediction that spare capacity in the slow economy would be enough to bring inflation down.
But the other committee members said that this was not enough to justify a change in rates policy.
Related Internet Links
The BBC is not responsible for the content of external sites.