Doncaster council children's services 'still poor'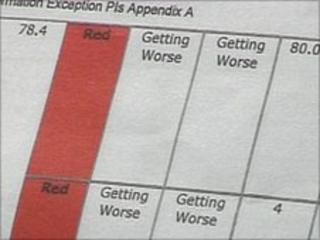 Child protection services in Doncaster remain "unacceptably poor" more than a year after the government intervened to run them, a report has revealed.
The report by the council's director of children's services found that in many areas its services were not only inadequate but "getting worse".
The council said "vigorous action" was being taken to improve performance.
One councillor said: "How can you have that after a year of government intervention and money thrown at it?"
Councillor Martin Williams, who is a member of the scrutiny panel which will consider the report on Thursday, added: "I think in 12 years as a councillor it is probably one of the worst reports I have ever seen."
The government ordered the takeover of Doncaster's children's services in March 2009 after the deaths of seven children in the district through abuse or neglect over five years.
An independent review found childcare provision was "seriously weak".
In his report which was discussed by the council's Schools, Children and Young People Overview Panel on Thursday, director of children's services Chris Pratt says: "Overall performance is still very poor."
Performance indicators for the three months to the end of March show that only 40% of children received initial assessments within seven working days compared with a national average of nearly 73%.
The figures for fuller assessments, which should be carried out within 35 days, were also below average at 65% compared with 78% nationally.
A host of other performance indicators were classed as inadequate with trends for many marked as "getting worse".
The report said: "Maximising protection for children and young people against abuse and harm remains an urgent and overriding priority.
"This requires major improvement to frontline safeguarding services.
"Although there has been some improvement since intervention, frontline safeguarding services remain inadequate.
"This is particularly the case at the 'front door', the referral and assessment service, where cases concerning the welfare and safety of children and young people are initially referred and the risk posed assessed.
"Key performance indicators remain unacceptably poor."
Mr Pratt said the council saw a 216% rise in the number of children coming into care in Doncaster between 2007 and 2009, compared with a 25% increase nationally.
He said there had been some improvements over the last 12 months, including the quality of services for children in care and children's homes and the performance of the fostering service.