Israel launches Ofek 9 spy satellite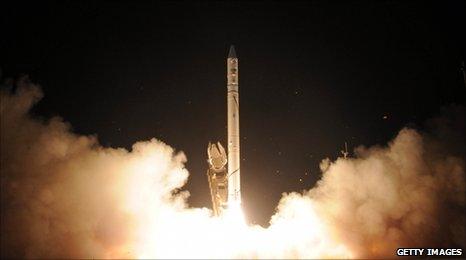 Israel has launched a surveillance satellite that will be used to spy on Iran's nuclear programme, reports say.
The satellite's high resolution camera would significantly boost Israel's intelligence gathering, officials told local media.
Israel's defence ministry said the Ofek 9 was launched from Palmachim air force base on its south coast near Tel Aviv.
It is one of at least four Israeli spy satellites currently orbiting the Earth.
"This provides Israel with greater operational flexibility, since we now have another set of eyes on a target," Chaim Eshed, the director of Israel's military space programme, told The Jerusalem Post.
"This means that we have increased the rate we can visit a target."
Israeli press reports said the satellite's high resolution cameras would boost its efforts to keep a close eye on Iran.
Israel regards Iran as the principal threat to its security after repeated references by Iranian leaders to Israel's demise.
Along with the West, it suspects Iran of trying to develop nuclear weapons under the guise of a civilian nuclear programme, a claim Tehran denies.
Israel's last spy satellite, TecSar, was launched from India in 2008.
Besides spy satellites, Israel also has a number of communications satellites in orbit.
Related Internet Links
The BBC is not responsible for the content of external sites.