Birmingham boys guilty of sexually assaulting sister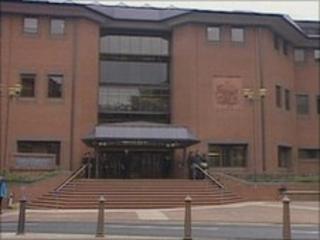 Two brothers have been found guilty of sexually assaulting a younger sister.
But the jury at Birmingham Crown Court was discharged after failing to reach verdicts on charges of rape.
The boys, now aged 15 and 13, had denied raping and sexually assaulting the girl, now seven, between September 2006 and May 2009.
The boys, who live in Birmingham, cannot be named for legal reasons. Their mother called social services after the girl made the allegations.
The 15-year-old boy was convicted of four counts of sexual assault of a child.
Social services
Two of those counts related to indecent behaviour with another sister.
The younger brother was found guilty of two counts of sexual assault on the seven-year-old.
Prosecutors told the court they did not wish to offer any further evidence relating to the rape charges.
The mother, who cannot be named, told the court she called in social services after the six-year-old said her older brother had touched her indecently.
She said the younger boy informed her he had seen his brother lying on top of their younger sister.
The jury was shown a recorded interview in which the girl told a police officer she was assaulted on a number of occasions by her brothers.
In the half-hour interview the girl also alleged she had been told by one brother to keep quiet about the abuse.
The girl gave evidence to the jury by video link, sitting on cushions so that she could be seen by the camera.
She told the court she had "said no" to her older brother, who had promised her sweets.
'Worrying offences'
The judge, who will sentence the boys at a later date, said the law required the boys to sign the sex offenders register.
"These are very worrying offences for such young people to have committed," she added.
Jon Brown, head of sex abuse strategy and development at the National Society for the Prevention of Cruelty to Children, said: "Unfortunately this type of offence is not as rare as people may believe - around one in three sex crimes are committed by children.
"However many cases do not come to light or are only revealed many years later.
"This may be because the victims are frightened into silence, are too young to prevent the abuse or, tragically, are not believed when they do tell someone."