Cambridgeshire A14 lorry fire delays cleared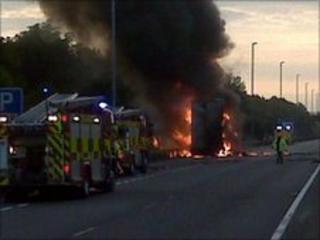 The remains of a lorry fire which caused delays to thousands of motorists on the A14 in Cambridgeshire have been cleared.
The lorry caught fire early on Tuesday morning on the A14 eastbound at Girton near Cambridge.
The road was closed for several hours while firefighters tackled the flames, which caused 30 miles (48km) of tailbacks along the A14, M11 and A428.
Restrictions remained in the afternoon for a clean-up to take place.
A fire service spokesman said the cause of the fire was accidental.
The fire started in the trailer which was carrying building materials, leaflets, commercial cookers and air conditioning units.