Obama pledges to consult with Cameron amid Afghan row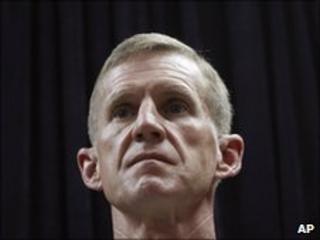 US President Barack Obama has told PM David Cameron he will "consult closely" with him over Afghanistan amid a row about the top US general.
Downing Street said the pair discussed the case of Gen Stanley McChrystal during a scheduled phone call.
Gen McChrystal has been summoned to Washington over an article in which he criticised senior US officials.
Downing Street said both leaders remained "fully supportive of the current strategy" in Afghanistan.
The White House said Mr Obama was angered by the profile in Rolling Stone magazine in which Gen McChrystal criticised the US ambassador to Kabul, Karl Eikenberry, Vice-President Joe Biden, National Security Adviser James Jones and the special US envoy to Afghanistan and Pakistan, Richard Holbrooke.
President Obama said Gen McChrystal had shown "poor judgement".
In a phone call on Tuesday, Mr Obama raised the issue with Mr Cameron, Downing Street said.
A Downing Street spokesman said the general's future was "a matter for Nato and the US administration.
"The prime minister and the president agreed that they both remained fully supportive of the current strategy in Afghanistan.
"The president said he would continue to consult closely with the prime minister."
Lack of clarity
The issue of divisions between the White House and the general had significance beyond the US, said former Liberal Democrat leader Sir Menzies Campbell.
"They have a direct relevance to both strategy and its implementation in Afghanistan.
"Britain is subordinate to the US in the Afghan operation and any suggestion of a lack of clarity in the Nato mission is deeply damaging."
US officials have so far declined to say that Gen McChrystal's job is safe.