US jails Cambodia coup plotter Chhun Yasith for life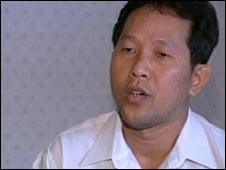 A Cambodian-born accountant has been jailed for life in the US for plotting a failed coup attempt against the Cambodian government 10 years ago.
Chhun Yasith, 53, was found guilty by a court in Los Angeles in 2008 of four charges relating to the failed attack.
Dozens of armed men attacked government buildings in the Cambodian capital, Phnom Penh, in a bid to overthrow Prime Minister Hun Sen.
Chhun is a naturalised US citizen who fled Cambodia as a refugee in 1982.
He grew frustrated with the lack of free elections under Hun Sen, a former member of the Khmer Rouge under dictator Pol Pot, said Chhun's lawyer Richard Callahan.
"He saw Hun Sen as on an even par with Pol Pot," Mr Callahan said.
Chhun also wanted to avenge the death of his father, whom he witnessed being beheaded by Khmer Rouge soldiers, Mr Callahan added.
Delivering the sentence in Los Angeles, District Judge Dean Pregerson said: "I don't think Mr Chhun is an evil human being. I think he's had a tragic life and had the misfortune of being born in a place where terrible things were happening."
In 2008 Chhun was found guilty of three charges of conspiracy and one of planning a military expedition against a US ally.
Prosecutors said Chhun founded a group called the Cambodian Freedom Fighters in the late 1990s.
They said that the group - controlled by Chhun from Thailand - carried out a series of smaller attacks in the lead-up to the coup attempt named "Operation Volcano".
Then on 24 November 2000, rebels armed with rockets and grenades attacked government buildings in Phnom Penh.
Several people were killed and more injured. In the wake of the attack more than 100 people were jailed.
Chhun was tried and convicted in absentia by a Phnom Penh court.