Lecturers vote to strike over Glasgow University job cuts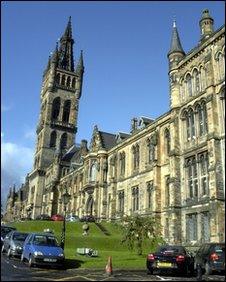 Glasgow University staff have voted to take industrial action over job cuts.
Up to 85 university posts in teacher education, biomedical and life sciences and archaeology research are under threat.
Details of the job losses will be finalised on Wednesday, when voluntary redundancies will also be signed off.
The University and College Union (UCU) said 76% of 1,050 members voted to strike and 88.5% also voted for other types of industrial action.
Action short of a strike may mean a work-to-rule, not marking examination papers and disrupting Fresher's Week.
The union described the result of the ballot as "a clear mandate for action".
About 200 UCU members are expected to lobby members of Glasgow University Court as they arrive for a meeting at 1400 BST on Wednesday.
They are urging them to agree that the savings already made by the institution are sufficient and that further job losses are not required.
Mary Senior, UCU Scottish official, said: "There is a clear mandate for industrial action but we hope that the dispute can be resolved without recourse to strike action.
"The Glasgow University court cannot ignore its staff and must agree to work together to resolve the situation without forcing job cuts.
"The university is presently running at a surplus of over £6m a year and UCU members will no longer swallow financial problems as an excuse to sack staff."
When the ballot was announced in May, a spokeswoman for the university said industrial action would "only harm students".
She said the university hoped that job losses would be voluntary but could not rule out compulsory redundancies.
Related Internet Links
The BBC is not responsible for the content of external sites.