Kandahar diary: Bracing for a battle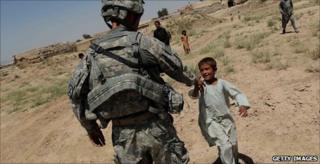 Sajeed (not his real name), a development worker in Kandahar city, describes the challenges of daily life in the Taliban stronghold. Many people have left amid fears that Kandahar will be turned into a battlefield during the expected operation by foreign and Afghan troops to drive the Taliban out.
"People in Kandahar are not very optimistic these days. The atmosphere has been very tense in the last couple of months.
Many families are leaving their hometown mostly to go to Kabul. I know several such families. The majority who have the financial means to leave have already done so.
Those working for the government and aid agencies are being threatened with death.
I have myself been targeted: I've received threatening text messages as well as night letters. The night letters are sent during the night, they tell you to stop working for this or that organisation, otherwise you'll be killed. It's a very frightening situation to be in.
Someone I know ignored these letters. He was killed about a month and a half ago. That's why many people quit their jobs and moved to places with a better security leaving Kandahar residents to face all the miseries on their own.
This has left us with a chaotic situation. It has made my work even more difficult.
We have ongoing projects in rural areas. The monitors we are left with are not willing to leave the city and we can't supervise those projects.
This is a clear disaster but neither the government nor those who claim to be assisting are taking any action.
At the same time, people living in Kandahar province, especially Arghandab district, where violence by insurgents is increasing daily, are trying to move their families to Kandahar city.
They believe that the presence of insurgents will turn the place into a battlefield.
Lessons from Helmand
There are rumours that more insurgents are moving to Kandahar city. Because of that more attacks are anticipated.
The summer season is ideal for the insurgents. They can sleep in the open, they can move by foot and be more mobile. We've experienced this surge of activities in the summer in the last four or five years.
For Kandahar people, the lesson learnt from the Helmand operation was that days before the operation started, the insurgents evacuated the area.
The operation in Helmand was not successful. Plans for it were advertised well in advance, so the insurgents left the place. They are now back in the area and the situation is even worse than before.
The same thing will happen in Kandahar. The moment the operation starts, the insurgents will move from one district to another.
Many people will be forced to move from rural areas to the city. Rural people have no means of supporting themselves in the city. Who is going to provide them with shelter and food?
'Unrealistic hopes'
I am not optimistic that this operation will succeed. All of us know that we can't defeat the insurgents by fighting. They are not in one or two locations, they are all around us.
We have to negotiate with them, we have to listen to what they want. The community elders are the ones who have access to them. They are the people who can make things happen and they should be instrumental in this process.
There are other people who too play an important role. Although warlords are not doing anything themselves - and they keep showing us their bare hands - they do support others who engage in illegal activities.
Many warlords are shareholders in big companies providing logistics and transportation services. They are the people who can contribute to both security or lack of it.
There's a highway, which is used a lot for transportation of goods. This highway has been protected by one person.
He is not a warlord, but his relative is. You have to pay this person in order to secure safe passage.
The money goes towards the warlord and he helps the insurgents.
These kind of people are the source of instability. They don't want this area to be stable. They profit from the instability.
The Afghan peace jirga was the only hope of the people living in the South who endure bad security situation.
But it remained that - a hope. The jirga came up with the same words we've heard before.
People don't see any light. There is no security or development plan from the government, coalition forces and aid agencies.
That's why people are tired of being victims of unrealistic hopes and promises."