BA strike: Unite union to ballot members if no progress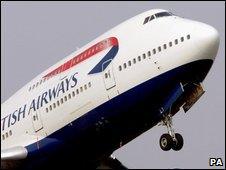 British Airways cabin crew will be balloted on fresh strikes if there is no progress towards a solution by Tuesday, the Unite union has said.
The crew have staged 22 days of strike action this year in the dispute which now involves the withdrawal of travel concessions from striking workers.
Recent talks between the two parties have failed to break the deadlock.
BA said Unite had demonstrated a "selfish lack of concern for our customers and their own colleagues".
Unite said that it was giving BA until 29 June to "demonstrate that it is willing to negotiate a solution to the fresh issues between the parties - or will ballot its members for strike action".
It said the new issues under dispute were threefold: BA's use of other employees to cover as cabin crew; the removal of travel perks from crew who went on strike; and "vindictive, disproportionate and unnecessary disciplinary action" taken by BA against some of its crew members.
"Once again, we say to BA: Do not seek conflict," said Brian Boyd, Unite national officer for civil aviation.
"Drop the tough talk and work with us to deliver the change needed for the future and preserve the standards associated with this great airline."
But in the continuing war of words between the two parties, BA countered by saying that Unite's "apparent wish to target the summer holidays of tens of thousands of families is deplorable".
It reiterated its determination to fly more of its customers during any future strikes.
"We will strengthen our contingency plans and aim to fly from Heathrow 100% of long-haul operations and a substantial proportion of short-haul services".
BA said there would be a full service from Gatwick and London City.
The industrial action taken by cabin crew this year has already cost the airline an estimated £150m.
Earlier on Tuesday, BA said it had reached an agreement with its pension trustees on a plan to reduce its £3.7bn pension deficit.
The airline said the plan would avoid the closure of its two final-salary pension schemes.
BA's merger with Spain's Iberia hinges on its pension recovery plan.
Last month, BA reported its biggest annual loss since it was privatised in 1987 - £531m ($788m) in the 12 months to March.
The carrier says it must cut costs substantially to return to profit.
Related Internet Links
The BBC is not responsible for the content of external sites.