Lawyers condemn UK-India Muslim preacher ban
By Prachi Pinglay
BBC News, Mumbai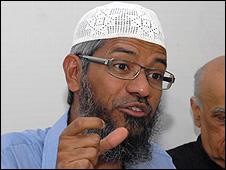 Lawyers representing an Indian Muslim preacher banned from entering the UK say the move was rushed and he was not given a proper chance to respond to it.
Majeed Memon, representing Mumbai-based television preacher Zakir Naik, described the move by the UK government as "barbaric and inhuman".
Mr Memon said the move was all the more extraordinary because Dr Naik was granted a five year UK visa in 2008.
The UK says that Dr Naik was banned because of "unacceptable behaviour".
Home Minister Theresa May said that visiting Britain was "a privilege, not a right" and she had the power to stop people entering the UK if she believed there was a threat to national security, public order or the safety of citizens.
That includes banning people if she believed their views glorified terrorism, promoted violence or encouraged other serious crime.
The Islamic Research Foundation, based in Mumbai, India, said on Saturday that it was seeking a judicial review of the decision in the London High Court.
Dr Naik said the move to exclude him was more of a political decision than a legal one.
His lawyers say that complimentary references he made in a speech about Osama Bin Laden were uttered in 1996 - and not 10 years later as detailed in the exclusion order made by the British government.
Mr Memon said the comments were made before the 9/11 attacks and "should not be read into".
He accused the newly-elected British coalition government of making a "political decision to gain political mileage".
Dr Naik - who is based in Mumbai (Bombay) and works for the Peace TV channel - is president of the Islamic Research Foundation.
He has won support for his campaign against the exclusion order from Bollywood film maker Mahesh Bhatt, who praised him for "locking horns with the might of the British empire".
Related Internet Links
The BBC is not responsible for the content of external sites.