Budget: Radical shake-up of benefits to cut spending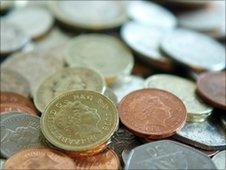 A raft of benefits have been cut or curbed as part of a radical shake up of the welfare system.
These changes are designed to save £11bn per year by the end of the parliamentary term.
That adds up to a quarter of the annual target of £40bn of spending cuts and tax rises by 2014-15.
A big saving comes from linking benefits, except the state pension, to the lower consumer prices measure of inflation.
Although they both measure changes in living costs, the latest Consumer Prices Index (CPI) is at 3.4% while the Retail Prices Index (RPI), which is currently used to set benefits, is at 5.1%.
The chief difference between the two is that the RPI includes housing costs such as mortgage interest payments.
The CPI is typically lower - over the past 20 years it has been higher than the RPI only three times.
More than half the savings - £5.8bn of the £11bn in 2014-5, for example - will come from the switch between inflation indexes.
The BBC's economic editor, Stephanie Flanders, says savings for the government will not go unnoticed by those who rely on these benefits.
She called the change a "big deal".
"Quite apart from the many other benefit changes he has announced, this change will feel like a significant cut in living standards for households that are dependent on benefits.
"Research has tended to show that the cost of the basket of goods bought by poorer households often rises faster than the basket of goods included in the CPI."
The TUC claimed that child benefit would be £2 a week lower if it had been linked to CPI rather than RPI since 2000.
Its research suggested that child benefit for the first child would now be £18.05 rather than the current £20.30.
Carer's allowance would have been £48.64 rather than the current £53.90, it claimed.
"[The change] will knock a bit off benefits and that will soon mount up to a cut that will make a real different to some of our poorest and most vulnerable families," TUC general secretary Brendan Barber said.
One of the country's other most important benefits is the state pension and this could be set in a different way in the future.
It may be calculated in line with average earnings - the average level of UK wage rises - rather than typical prices.
This marks the return to a system that was abolished by the previous Conservative government to save money, because earnings generally rise faster than prices.
With wages for public sector employees frozen in the Budget for two years for all but the lowest paid and private sector firms struggling to pay higher wages, this could backfire.
But the chancellor has put in place a so-called "triple lock", whereby the basic state pension will rise each year in line with earnings, prices or 2.5%, whichever is the greater.
Other welfare budget savings include a shake-up of the housing benefit system.
A number of reforms will be introduced, including a maximum limit of £400 a week for a house with four or more bedrooms.
The chancellor will also reduce tax credits for middle income families. A range of changes will include reducing payments to families earning over £40,000 next year.
Child benefit will also be frozen for three years, although an increase in child tax credits will go some way to offset this.
A new medical assessment will also be introduced from 2013 for people claiming the Disability Living Allowance (DLA).
"The 2.9 million disabled people who receive DLA will be alarmed by these changes," said Richard Hawkes, chief executive of disability charity Scope.
"The proposal to introduce a new medical assessment for DLA appears designed purely to reduce the number of people eligible for this support."