Budget: Education spending faces 25% cut
By Hannah Richardson
BBC News education reporter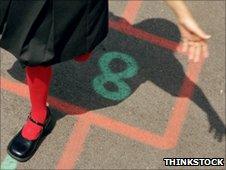 Education spending in England could be cut by as much as 25% over the next four years, the Chancellor has said.
But George Osborne said in his Budget statement that he recognised the "particular pressures" on the education system.
Teachers and lecturers also face a two-year pay freeze from 2011.
Christine Blower of the National Union of Teachers said the Budget showed that public services would "bear the brunt of the brutal cost cutting".
The ATL teachers' union warned that "this level of funding reduction will inevitably include fairly savage staffing cuts".
Mr Osborne also announced that lone parents would have to start work when their youngest child started school or they would face losing their income support benefit.
Currently lone parents do not have to start looking for work until their youngest child reaches the age of 10.
The former Labour government had planned to reduce that age limit to seven this October.
Currently, out-of-work parents have to apply for Jobseeker's Allowance once their youngest reaches age 10.
And in order to receive this, claimants must be available and actively looking for work.
Other cuts included the freezing of child benefit which is paid to all families, regardless of income, and the axing of the health in pregnancy grant.
Tax credits will be reduced for families earning over £40,000 next year.
The Chancellor said all departments would be hit by an average spending cuts of 25%, but that not all departments would experience the same rate of reduction.
The detailed settlements would be set out in the comprehensive spending review in October.
The planned reductions in education spending will be met by opposition from the teaching unions.
The coalition government had said it would protect front line spending on schools for one year.
But universities and colleges are already grappling with £1.4bn worth of cuts over the next three years.
University and College Union general secretary Sally Hunt said: "Starving education of funds and making families pay more to access a university education, while authorising billions in tax giveaways to big business would be a disaster for the UK.
"Today's corporation tax cut could have funded university places for all students forced to cough up for university fees."
Paul Marshall, executive director of the 1994 Group of universities, said: "Our universities are driving economic growth and meeting the most pressing challenges facing our society - they should not be left unprotected".
General secretary of the Nasuwt teaching union Chris Keates called the budget dishonest at every level.
She said: "Despite all the pre and post-election rhetoric, schools and education are not protected from the swingeing 25% cut in departmental budgets over the next four years."
The NUT's Ms Blower added: "Cutting funds for schools and other related services will irretrievably harm children and young people, particularly the poorest ones."
She also said it begged the question where the government would find the funding for its free schools and academies programme.
On the lone parent benefit change, co-founder the Netmums parenting website Siobhan Freegard said many mothers would be feeling very anxious.
She said many wanted to work but found it difficult to find jobs that fitted around school hours and paying for childcare before and after the school day.