Elliott announces UUP leadership bid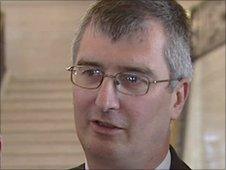 The Ulster Unionist Fermanagh MLA Tom Elliott has announced he is seeking the leadership of his party.
Speaking on Tuesday, Mr Elliott said he had a vision for a progressive party.
He would not be drawn on which direction he would take the party pending a review of its relationship with the Conservatives.
Sir Reg Empey announced he would be standing down in the autumn following a disappointing election during which the party failed to win a single seat.
Mr Elliott was flanked by members of the UUP assembly team including Health Minister Michael McGimpsey and the deputy leader Danny Kennedy.
Mr Elliott said he looked forward to the competition.
Speaking at the Stormont on Tuesday, Mr Elliott said that politics had changed over the last 20 years and "obviously unionism has changed with that".
He said that "we, as a party need to ensure that we make changes that are appropriate to the people of Northern Ireland".
"I don't want to see the unionist people of Northern Ireland being left behind and I don't want to see Northern Ireland being left behind the rest of the world," he said.
Mike Nesbitt, who stood unsuccessfully in Strangford at the last general election, and has hopes of an assembly seat was present for the announcement.
According to BBC NI political correspondent Martina Purdy, Mr Nesbitt and Mr McGimpsey had been the subject of speculation about a leadership bid. It is now clear they are backing Mr Elliott.
Basil McCrea, the Lagan Valley MLA, is expected to contest the leadership, but has yet to declare.
Mr McCrea declined to comment on Mr Elliott's bid. He is at the Buckingham Palace Garden party and also is visiting Westminster to discuss the budget.
Earlier this month, the deputy leader of the Ulster Unionist Party, Danny Kennedy confirmed he would not be a candidate in the leadership contest to replace Sir Reg.
Sir Reg succeeded David Trimble as party leader in June 2005 following a disastrous general election which saw the party going from having 10 MPs in 1997 to just one.