Pakistan jail head faces charges over missing prisoners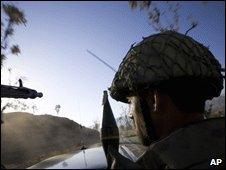 A Pakistani court has ordered police to file criminal charges against a jail official accused of facilitating the "disappearance" of 11 prisoners.
The men, acquitted in April after being detained in connection with suicide attacks on military targets, went missing soon after being freed.
Their relatives allege the jail authorities moved them to a secret detention centre.
The head of the jail, Saeed Gondal, has denied the charge.
In a separate case, the high court has also asked the government to explain why an Afghan charged with attacking the Manawan police academy in Lahore last year was acquitted.
The man, known as Hijratullah, was arrested at the scene. He was set free by an anti-terrorism court last week.
The 11 missing men were arrested and tried in connection with three high-profile suicide attacks on military targets in the city of Rawalpindi in 2008 and 2009.
They were acquitted by an anti-terrorism court in April due to a lack of evidence.
On Monday, the Lahore high court was told by lawyers representing the relatives of the missing men that the jail authorities had re-arrested them following their release and moved them to an unknown location.
The court then ordered police to register a case against Mr Gondal and produce him in court. Mr Gondal told the BBC on Monday that he would contest the charge.
He said the men were released from jail on 28 April and it was not his concern where they went after that.
"Nowhere is it written in the jail manual that the jail management should drop released prisoners to their residences," he said.
Correspondents say undeclared arrests of individuals suspected of "anti-state" activities by some sections of the government are not uncommon in Pakistan.
Often such "disappearances" are blamed on the country's powerful intelligence agencies.
Related Internet Links
The BBC is not responsible for the content of external sites.