Budget: Child benefit frozen and tax credits cut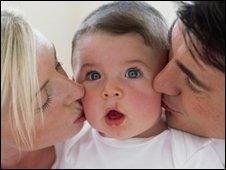 Child benefit will be frozen and tax credits reduced as part of the chancellor's Budget spending cuts.
Child benefit, the benefit payout received by all families with children, will be frozen for three years.
Tax credits, brought in by the previous government to help working families and people on low incomes, will be cut for households with a combined income of more than £40,000.
Those who fall below that will see the child part of the credit increased.
It will rise by £150, on top of rises to account for inflation.
Other changes to family-centred benefits will see the health in pregnancy grant abolished in 2011, worth £190 a year.
The Sure Start maternity grant will be restricted to only the first-born child.
In future, lone parents will also be expected to look for work when their youngest child goes to school.
The Chancellor, George Osborne, said the increase in tax credits for the poorest families would amount to £2bn.
He said this meant child poverty would not increase over the next few years.
But children's campaigners said VAT increases would offset some of the gains, and planned restrictions in benefits and cuts to services elsewhere were likely to have a disproportionate impact on low-income families.
Save the Children UK said that the planned increase in VAT to 20% in January next year would mean the poorest parents paid at least £1,600 in VAT a year.
It added that poor families currently spent more of their disposable income on VAT than richer families, with the poorest 10% spending 14% of disposable income compared with 5% for the richest families.
Gingerbread, the organisation representing single-parent families, said families with second children on the way would be hit hard. It said benefit changes could leave this group more than £1,200 worse off this year than last year.
Related Internet Links
The BBC is not responsible for the content of external sites.