DUP's Jonathan Bell declares wife as employee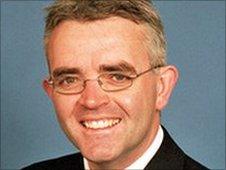 The DUP assembly member Jonathan Bell has declared he is employing his wife on a part-time basis.
The information is included in the assembly member's register of interests which was updated last Friday.
Mr Bell employs his wife as a research assistant.
He hired her on 1 May and informed the assembly last month. Mr Bell replaced Iris Robinson after her resignation.
Mr Bell also employs two members of the Robinson family, as previously reported, including the first minister's son Jonathan.