Private universities 'to expand' to fill places gap
By Sean Coughlan
BBC News education correspondent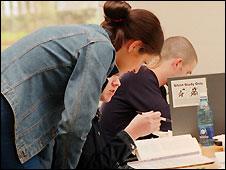 A university leader is forecasting an expansion in private universities, as students face a shortage of places.
This could include overseas universities opening campuses in the UK or offering online degree courses.
Paul Marshall, head of the 1994 Group of universities, says he expects a shift towards encouraging "private providers to enter the market place".
Pressure on public spending is limiting university places and this year will see record numbers missing out.
The higher education sector faces tough financial pressures, with Lord Browne currently reviewing tuition fees and university funding in England.
Universities Minister David Willetts has warned that there needs to be a more flexible and affordable way of delivering more degree courses.
Mr Marshall, in a speech in London, is to set out the changes he expects from the coalition government.
He will argue that this is likely to include a growth in the private university sector.
This could bring "access to a form of higher education for all, literally at the end of every street".
There are already specialist private institutions offering degree courses where students can get financial support.
But there are only a handful of private institutions offering the range of courses of the kind associated with a traditional university, with the most prominent being the University of Buckingham.
In contrast, in the United States there has been a rapid expansion in for-profit private institutions, with thousands offering courses either on campus or online.
In global terms, countries in western Europe are unusual in having a university system so dominated by public institutions.
There have been suggestions that the government will make it easier for private providers to expand in England.
The 1994 Group, which represents research-intensive universities, says that private providers would benefit higher education, adding competition and driving up quality.
Mr Marshall is also expecting the government, following the Browne Review, to move towards other types of flexibility within the university system.
This could include a system of credits that can be transferred, which could be useful to part-time students.
Further education colleges are likely to play a bigger role in offering higher education courses, he will say.
And he will emphasise the need for universities to be more transparent about what they are offering both students and taxpayers.
But the university sector will also be wary of any dilution of quality or academic reputation of a degree accredited in the UK.
"Government regulation of higher education and degree awarding powers will determine whether or not there will be growth of private provision in the UK," says Steve Smith, president of Universities UK.
"But any changes would have to guarantee that the quality of private sector provision is adequately assured."
Such changes to the shape of higher education will be influenced by outcome of the Browne Review and the government's response, due in the autumn.
This will consider the level of tuition fees and whether the interest rates for loan repayments should be increased.
A survey from the Simon-Kucher research consultancy - based on a sample of 18 universities - found that £7,000 per year was the level of fees that was most widely expected to be recommended.
Related Internet Links
The BBC is not responsible for the content of external sites.