Dorset windsurfer in water sport 'record' challenge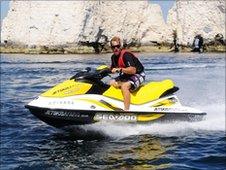 A champion windsurfer claims to have set a world record after taking part in 21 water sports in one day.
Guy Cribb, 40, took to the water between Bournemouth and Poole, Dorset, on Monday on a kayak, bodyboard and water skis, among other things.
Mr Cribb, from Poole, said he was able to complete the challenge because of the range of facilities in the area.
A Poole Tourism spokeswoman said the challenge had been registered with Guinness World Records.
She added that the result would be known in four to six weeks.
The 13-times UK windsurfing champion said the day had been "immense" but tiring.
Other sports included kite surfing, stand-up paddle-boarding, windsurfing, sailing and skimboarding.
He said: "I'm more tired than I thought I would be.
"To do so many sports in a day is immense - rushing between them and co-ordinating everything."
The challenge was set up by tourism officers from Bournemouth and Poole.
Mr Cribb said: "It's a Poole and Bournemouth record, I can't really claim it for myself. It's all about the fact that you can do so many sports in this area.
"Perhaps some of the big coastal cities like Sydney could potentially have all these but probably not within a 10-mile coastline."
Mr Cribb also claims to be the first person to windsurf across the Channel after windsurfing 75 nautical miles (138.8km) from Cherbourg to Poole with Frenchman Antoine Albeau in October 2008.
Related Internet Links
The BBC is not responsible for the content of external sites.