Britannia Bridge 'jump' pair sparked air-sea rescue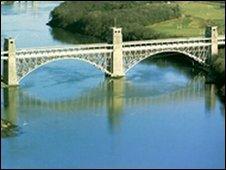 Two men who leapt from a bridge in what onlookers feared was a suicide have been told to do 120 hours' unpaid work.
They actually dropped onto the deck below, on the Britannia bridge off Anglesey, in a "daredevil" stunt.
Caernarfon magistrates heard emergency services were called, including a helicopter, at a cost of almost £4,000.
Benjamin Dilworth, 23, from Bangor, and James Thumwood, 21, from Hampshire, were each ordered to pay £100 costs and £1,275 compensation.
The hearing on Monday was told that onlookers feared they had witnessed a double suicide bid after the pair were seen making what was thought to be a 150ft (45m) leap into the Menai Strait between the north Wales mainland and the island.
Instead, they dropped on to one of the four monumental limestone lions on the deck below.
The bridge, built in 1850 and one of two between Anglesey and the mainland, has two lions at each end.
It is thought the two men then swam to the Anglesey side of the strait where they were arrested.
But by this time two RNLI lifeboats and an air ambulance helicopter had been called to the scene as well as an ambulance and a coastguard crew, the court heard.
Magistrates were told the alert cost £2,000 for the lifeboat launch, £1,300 for the air ambulance helicopter, £273 to have the ambulance attend and £400 for the coastguards.
Film studies student Dilworth and Thumwood, who had studied zoology at Bangor university, admitted committing a public nuisance and trespassing on the railway in what was described as a "daredevil" stunt.
James Conod, defending, said his clients had learned their lesson.
He said: "It won't happen again, they're adventurous men of good character."
In addition, both men were told to pay compensation to the rescue teams and three people who had wrongly believed they had witnessed a double suicide bid.
Court chairwoman Sue Jones said compensation was to be paid a rate of £10 per week, with £2,000 to the RNLI, £400 to coastguards and £50 each to the three eye witnesses.
She told them a genuine emergency on the day, Sunday 23 May, could have been compromised by their actions.
Related Internet Links
The BBC is not responsible for the content of external sites.