Israel asks UN to shelve aid ship raid inquiry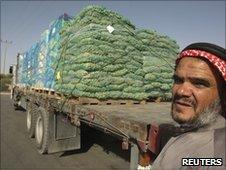 Israel has asked the UN to suspend attempts to organise an international inquiry into a deadly raid on a ship trying to break the blockade of Gaza.
Israeli Defence Minister Ehud Barak said any inquiry should be shelved because new attempts to breach the blockade were still being organised.
Nine pro-Palestinian activists died when Israeli soldiers stormed a Turkish aid ship in May.
The UN has called for an impartial and credible inquiry into the raid.
Israel has announced its own inquiry but some governments have expressed scepticism about its credibility.
Mr Barak spoke after talks with UN Secretary-General Ban Ki-moon, who has been trying to organise the international inquiry called for by the Security Council.
"We expressed our view that for the time being, as long as new flotillas are in preparation, it is probably better to leave it on the shelf for a certain time and we are moving ahead with our independent investigation, which we believe is clearly independent, reliable, credible and should be allowed to work," Mr Barak said.
He said one ship was preparing to leave Lebanon and he warned that Israel would hold Lebanon responsible for any resulting violence.
"About the coming flotilla, we've heard in the media that some organisation, probably backed by a terror organisation, (is) once again trying to send a vessel into Gaza," he said.
"We think it's a bit irresponsible to do that."
The Turkish ship Mavi Marmara had been part of a six-ship flotilla trying to bring aid to the Gaza strip when Israeli commandos boarded it on 31 May.
Israel insists its soldiers were attacked and opened fire in self defence, but activists deny this.
The Israeli siege is aimed at pressuring the Islamist Hamas movement, which runs the Gaza Strip. But its dire impact on Gaza's economy has drawn strong criticism.
Israel, under fierce international pressure, announced last Thursday that it would ease the land blockade on Gaza.
Israel will allow items unless they feature on a new list of banned goods.
The move will let in humanitarian aid, food and building supplies, Israel says.