Fourteen die as gangs target buses in El Salvador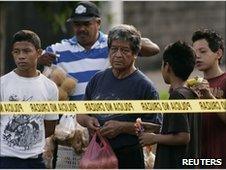 Police in El Salvador say they have captured a number of alleged gang members they accuse of torching a public bus, killing 11 people.
Gunmen had earlier boarded another bus in the capital San Salvador and shot dead two children and an adult.
Police said they suspected gang members had carried out the attacks in revenge for President Mauricio Funes' clampdown on violent street gangs.
But some analysts said it could be part of a turf war between rival gangs.
Salvadorean Security Minister Manuel Melgar called Sunday's incident "an act of terrorism".
Attacks on public transport companies are not uncommon in El Salvador.
Criminal gangs have in the past torched buses of companies who have refused to pay protection money, but this is the first time a bus was set alight with its passengers on board.
An investigator who asked to remain anonymous told BBC Mundo two rival gangs were fighting over control of the neighbourhood where the attacks happened.
"The Mara Salvatrucha gang wanted to extort money from this bus company, but the company was already being extorted by the 18th Street Gang and told them they couldn't pay off two gangs, and that's how this butchery started," he said.
The BBC's Eric Lemus in El Salvador says the attack has taken gang violence to a new level and shocked the country.
Related Internet Links
The BBC is not responsible for the content of external sites.