Road trip becomes a costume drama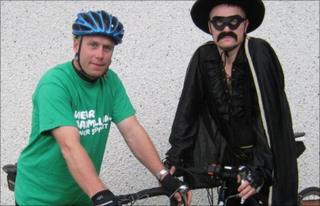 Julian Heitz-Jackson hopes to smell contrasts in the landscapes along the way.
Ten friends will do it wearing superhero costumes, while Andrew Robertson and Alan Falconer hope months of preparation pays off.
They are just some of the End to Enders, the thousands of people who attempt to walk or cycle from Land's End to John O'Groats, or vice versa.
Summer is the height of End to End season.
According to those involved, increasing numbers of people are trekking or cycling between Cornwall and Caithness.
Veteran far north journalist Noel Donaldson has covered hundreds of the attempts.
He said: "The novel ways have included walking backwards, by penny farthing bike, pushing a bedstead.
"One guy even did it wearing nothing more than a pair of leopard skin trunks, a bold method considering the chill winds that frequently blow in the far north."
Mr Donaldson added: "The arrival of mobile phones means that radio, TV and national newspaper journalists can keep in touch with those on the road and often as not website pages have been established tracking them on a day-to-day basis.
"I have occasionally toyed with the idea of having a crack at it myself but as a 64-year-old, I am still trying to come up with a viable method."
Andrew Robertson, 32, and Alan Falconer, 42, both from Inverness, have set up a Twitter page for their cycle ride from the south.
The pair have tweeted on their preparations so far.
Since early spring, they have been training three or four times a week, cycling between 25 to 80 miles.
Like many Enders, they are raising money for charity from their 900-mile bid.
They hope to generate thousands of pounds for Macmillan Cancer Support after a member of Mr Falconer's family was diagnosed with breast cancer.
One sponsor has offered £100 if Mr Falconer sticks to a promise to wear a Zorro outfit.
The masked swordsman will also be a feature of another marathon cycle.
Jeff Burnett and nine friends, all from Fetcham, Surrey, will ride north to south dressed as superheroes in memory of his son Alastair.
The six-year-old died from Juvenile Myelomonocytic Leukaemia last year.
Alistair's mother, Kate, said it has been a "slog" gaining media attention for the cycle ride.
She said: "We want to make this as high a profile challenge for two reasons - to create a legacy for Alastair - we want as many people to know about him as possible.
"And secondly so we can raise as much money as possible for The Royal Marsden hospital which gave him such brilliant care."
Mrs Burnett added: "What does make it tough generating publicity is that it's so emotional for us.
"Here we are talking about the reason for the ride - a child who died of an awful disease and it's our own son.
"It's such a personal experience and when I did a telephone interview with the radio the other day, as soon as I put the phone down I burst into tears.
"But at the same time I thought what Alastair would have thought and I could hear his voice in my head saying 'come on Mum, that was great'."
Another about to set off from John O'Groats is London-born Mr Heitz-Jackson, 48, who is blind.
The twin brother of James Jackson, a historical thriller writer, he started losing his sight five years ago.
Mr Heitz-Jackson will ride tandem with Nicola Bennett, 30.
They have dubbed their fundraising effort for the National Blind Children's Society, One Blind One Blonde.
Mr Heitz-Jackson said: "Having lost my sight my other senses have heightened.
"I am looking forward to experiencing the contrasts in the smell and sound-scapes. I am also interested in how my old body is going to cope with the challenge."
Web developer, producer and journalist Mark Moxon runs a website on long-distance walks.
Having followed a 1,111-mile route from Land's End to John O'Groats himself, Mr Moxon said the journey was a personal one for those who tackle it.
He added: "It's incredibly satisfying to look at a map of Britain and think, 'I walked across that'.
"As a way of discovering your own country, it's hard to beat.
"If you travel by car or bicycle, local cultures flash by and accents can change every time you pull over.
"When you spend weeks crossing the country by foot, everything changes gradually, day by day, all the way from Cornwall to Caithness - with a rather noticeable blip at the England-Scotland border."