Parents protest to save Llandudno primary school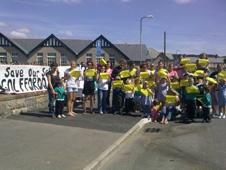 Parents are staging a protest outside a primary school in Conwy county in an attempt to prevent its closure.
Opponents rejecting proposals to shut Ysgol Ffordd Dyffryn in Llandudno plan to stay at the site all day.
Conwy council, which wants to tackle falling pupil numbers, said it respected parents' "right to protest".
Meanwhile, in Denbighshire, education chiefs have approved a consultation affecting primary schools in Prestatyn.
Denbighshire's changes would see the amalgamation of Bodnant Infants and Bodnant Junior schools into a two-form entry all-through school, and the potential expansion of Ysgol y Llys into a two-form entry, subject to capital funding.
Melanie Brook, chairman of the Ysgol Ffordd Dyffryn parent teacher association (PTA), is organising the protest, and she said parents were furious at Conwy council's bid to shut the school as part of its primary schools review.
A total of 36 out of 61 schools in the county are affected by the plans as the council tries to reduce the number of empty classroom spaces from 1,900.
Mrs Brook, who has two children at the school, said: "Parents are behind saving the school because they don't want their children to go anywhere else.
"There is not enough room for them at Ysgol Tudno and if this happens, class sizes are going to be bigger and families with young children won't want to move into the area if there is no school.
"It won't just affect our children, there is a unit here for children with learning difficulties who will have to travel to Denbigh if Dyffryn closes."
Another parent Graham Jones, who also attended the school himself, said he planned to stay at the site all day.
He said between 20 to 30 parents had stayed on, for a time, after dropping off their children at the school, while a smaller group planned to stay there all day.
"Unless people like us do this then the council won't know we oppose this," he said.
Support for the campaign was growing after a page on social networking website Facebook was set up, he added.
"There are other places where the council could save money without closing this school," he said.
The plans are being put out for consultation until September but the PTA hopes it can force a rethink.
Councillor Wyn Ellis Jones, Conwy's cabinet member for lifelong learning and skills, said all views would be taken into account.
"We respect the right of parents to protest and would appreciate if they used the consultation's formal feedback forms as well to let us know what they think," he said.
Initial plans to change primary school provision in Denbighshire to address the falling demand for English language places, the rise in demand for Welsh language places and reliance on mobile classrooms, also prompted a fierce response when they were first put forward.
But Chris Ruane, Labour MP for the Vale of Clwyd, said the local council had listened to parents' concerns and altered the original proposal to close Bodnant Infants.
He said: "I'm really pleased the local authority has listened to parents. Two-form entry is a big improvement on the original proposals."
The cabinet agreed to allow formal consultation to take place based on two proposals - the amalgamation of Bodnant Infants and Bodnant Junior schools into a two-form entry school and the expansion of Ysgol y Llys into a two-form entry.
The consultation period for both these proposals will take place between 30 June and 24 September this year.
Related Internet Links
The BBC is not responsible for the content of external sites.