University of Exeter designs blast-proof curtain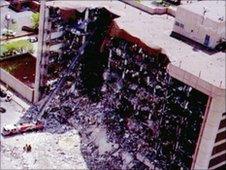 A blast-proof curtain is being developed by scientists from a Devon university to protect potential terrorist targets.
The curtain can capture debris, such as flying glass, when windows are blown in.
The Engineering and Physical Sciences Research Council (EPSRC) project is led by the University of Exeter and research and development firm Auxetix.
The curtain could also be effective during typhoons and hurricanes.
Testing has begun at a government-approved facility and the curtain could be on the market in three to five years.
The curtain has been primarily designed to be fixed over the windows of potential terrorist targets, such as government and high-profile commercial properties.
Professor Ken Evans, from the university, said: "In the 1995 Oklahoma City bombing, glass accounted for nearly two thirds of all eye and head injuries.
"The blast curtain we're working on, which will be capable of dispersing the shock from an explosion extremely effectively, will be backed up by robust scientific understanding vital to ensuring it really can block flying debris and achieve widespread use."
The new curtain aims to remove the need for anti-shatter films by using stronger, more resilient fibres woven into a carefully controlled textile structure.
The secret lies in the yarn the curtain is made from, the university said.
A stretchy fibre provides the core of the yarn and a stiffer fibre is then wound around it.
When this stiffer fibre is put under strain, it straightens, causing the stretchy fibre to bulge out sideways - increasing the yarn's diameter.
Small pores also open up in the fibres when they are stretched and these are designed to let through some of an explosion's shock wave, ensuring it does not rip.
Related Internet Links
The BBC is not responsible for the content of external sites.