Machu Picchu flight ban 'should be lifted' say company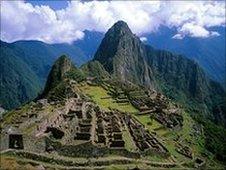 The operator of helicopter trips to the ruins of Machu Picchu in Peru is calling for a ban on flights to the Inca citadel to be reconsidered.
Last week the government announced a ban on flights to a helipad near the country's top tourist attraction to protect the environment.
The company that operates the flights is talking to the government to find out if the ban will be permanent.
The company, Heli-Cusco, says it will seriously affect their business.
Machu Picchu is difficult to reach.
Most tourists travel by train to the nearby town and then hike or take a bus the rest of the journey.
In January the train line was swept away in a landslide, trapping 4,000 tourists on the mountain.
Heli-Cusco recently got permission to fly six flights a day into the helipad at Aguas Calientes, around 1.3 miles (2 km) from Machu Picchu.
Helicopters are already banned from flying directly over the archaeological site because of fears the vibrations from the rotors will damage the ruins.
But on Saturday it was announced that the government had banned flights from a 125 sq mile (323 sq km) area around the site.
"We learned of the ban in the newspaper," Rafael Barbosa of Heli-Cusco told the BBC news website.
"We weren't warned at all, our director has gone to the government now to find out more about the ban, and if it will be permanent."
"If it is, it will be very serious for our business."
But the director of the Machu Picchu archaeological park, Fernando Astete, says the ban is needed to protect wildlife.
The sound of the rotors affects the habitat of the spectacled bear, the last remaining species of bear in South America - and the model for the children's book character Paddington Bear.
The breeding habits of the red-plumed Andean cock-of-the-rock are also disturbed by the rotors sound, environmentalists say.
The male cock-of-the-rock is known for the extravagant hopping displays that it employs to attract a female.
Up to 2,000 tourists a day visit the mountain city.
Before the ban came into force, as many as 90 people could be flown in to the area on six flights a day.
The 15 people travelling on each helicopter trip paid $316 (£213) per person for the trip.
Related Internet Links
The BBC is not responsible for the content of external sites.