California weighs 'digital adverts' on number plates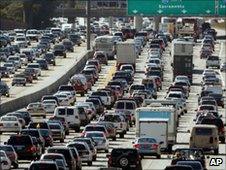 California is weighing whether to allow advert-broadcasting digital number plates on vehicles, in a bid to raise revenue for the cash-strapped state.
Drivers could select messages to display and could earn rewards from advertisers that pay the state.
The state senate is considering a bill to allow research into the move.
At least one firm, in San Francisco, is developing an electronic number plate that would scroll adverts while a car is stopped at lights and in congestion.
The company, Smart Plate, holds a patent on the technology but has yet to produce a demonstration model.
"We're just trying to find creative ways of generating additional revenues," said Democratic Senator Curren Price of Los Angeles, who introduced the legislation to explore whether to adopt the new plates.
"It's an exciting marriage of technology with need, and an opportunity to keep California in the forefront."
Under the bill before the state legislature, the California motor vehicles department would have until 2013 to research digital number plates, including the amount of revenue they would raise, restrictions on the messages they display and any impact on traffic safety.
According to a state analysis of the bill, while the vehicle bearing a digital plate is in motion the plate would display the registration number.
But when the vehicle is stopped for four seconds or more, the number would be replaced with a scrolling set of messages including advertisements for private businesses, educational institutions and other organisations that have contracts with the state.
Free speech protections mean it is likely the state would have to accept any "non-obscene" message, but the individual motorist would be able to choose which messages to display.
The plate would be controlled from within the vehicle.
Many US states allow motorists to opt for number plates displaying a religious or political message, such as opposition to abortion rights or support for the military or a sports team.
The California government is currently grappling with a $19bn (£12.8bn) budget deficit.
Related Internet Links
The BBC is not responsible for the content of external sites.