High Court blocks Exeter and Norwich super-council move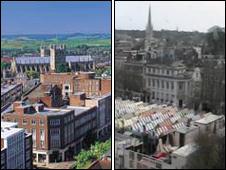 A Labour government decision to give Exeter and Norwich wider powers has been blocked by the High Court.
A judge said the former government had ignored criteria such as value for money to allow the change.
The new coalition government, which rejected the move to allow the cities to take over schools, roads and social services, welcomed the judgment.
Exeter said it was disappointed and Norwich said it was a missed opportunity.
The Labour government first put forward the plan to give Exeter and Norwich city councils wider powers in 2007, saying it would benefit local people.
But High Court judge Mr Justice Ouseley said that in February 2010 the government ignored official advice that neither city fitted the criteria for unitary status.
The city councils were refused permission to appeal against the judge's ruling that they had unlawfully been granted their independence from county council control.
Norwich City Council leader Steve Morphew said the High Court judgment was "a real missed opportunity for the city".
He said: "A new council would have repaid the set-up costs in two and a half years, and by 2021 would have delivered around £30m in savings for Norwich taxpayers."
Adrian Fullam leader of Exeter city council, said: "There's an element of disappointment, but also of relief that we have got some certainty going forward.
"We need to look at the the two-tier structure and working out how we can make that work best for Exeter."
The process had been stopped before senior appointments were made.
Devon County Council leader John Hart said it vindicated the council's appeal against the move.
A Department of Communities and Local Government spokesman said: "That the department now has to pick up substantial legal costs is a further demonstration of the reckless spending habits of the previous government."
Related Internet Links
The BBC is not responsible for the content of external sites.