Ivory Coast probes Trafigura waste fund theft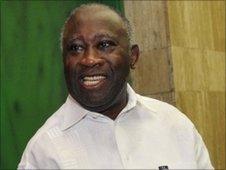 An investigation has been ordered into allegations a minister in the Ivory Coast embezzled money meant for victims of waste dumping.
The investigation into Interior Minister Desire Tagro comes after accusations in the media.
Oil shipping firm Trafigura made a $198m (£134m) out-of-court settlement with the government after the 2006 dumping of waste in Abidjan.
Mr Tagro will not be suspended during the inquiry, it was reported.
He is seen as a key ally of President Laurent Gbagbo, who ordered the investigation.
The accusations also include embezzling from budgets set aside to aid travel to Saudi Arabia for the Hajj pilgrimage, from a police training school and a national voter ID scheme, a government spokesman said in a statement.
Mr Tagro is also accused of nepotism for giving civil service jobs to people from his region.
"Faced with these accusations the president ordered the public prosecutor to open an investigation," the spokesman said.
Mr Tagro refused to comment on the allegations.
Trafigura had hired a local firm in 2006 to treat and dispose of its waste - but the chemicals were eventually dumped in the main city, Abidjan.
Shortly afterwards, thousands of people complained of becoming ill, and the illnesses were eventually linked to the chemical waste.
But reports that the waste had caused deaths or serious injuries were always rejected by Trafigura - and lawyers for the claimants eventually agreed.
Trafigura agreed to an out-of-court settlement in 2007 but the first cheques were only issued in March after legal disputes.
Related Internet Links
The BBC is not responsible for the content of external sites.