Public warned as oil spill hits Hampshire beaches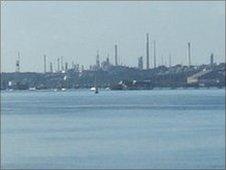 Oil has been washing on to two miles (3.2km) of Hampshire coastline after a pipeline leaked in Southampton Water.
About 20 barrels of vacuum gas oil were spilled at Esso's Fawley terminal on Sunday night as a ship was unloaded.
Affected beaches from Hill Head to Solent Breezes have been closed and people told to stay out of the water.
An Esso spokesman said health risks were "very, very low" and the oil was only a "potential carcinogen" to people with repeated, prolonged exposure.
Esso said the unloading was immediately stopped on Sunday night and it was working to clean up the spill.
Booms were used to try to contain the oil within the terminal.
The firm met with emergency planners from the borough and county councils, the Environment Agency and Natural England on Monday evening to discuss the clean-up.
Fareham Borough Council's executive leader Sean Woodward, who attended, said: "It's not your traditional black oil slick.
"It's vacuum gas oil, a pale brown stain, all the way along the beach.
"It's quite extensive. The oil is certainly hazardous."
He said about 50 people working at the coastline had been taken off duty "to get the appropriate clothing".
"I didn't realise we were dealing with such a toxic compound."
He said because the area was a site of special scientific interest, the clean-up would involve bagging contaminated shingle after each high tide and sending it away to be cleaned, before returning it to the same place.
"Esso have said they will not leave until we are happy - obviously we will be sending them the bill," he said.
A section of beach from Hill Head Sailing Club to Mean Shore was closed at about 1530 BST and signs erected, but some people have criticised the clean-up response.
Allan Boutcher said his dogs had been contaminated with oil from the spill when he took them for a walk near Solent Breezes on Monday morning.
At the time, no signs had been put up to warn people, he said.
Fareham Borough Council said it was informed by Esso of the spill at 0800 BST on Monday.
A boom is on standby near the entrance of the River Hamble and another boom is already in place at Titchfield Haven National Nature Reserve, with pumps on standby, Mr Woodward said.
Esso said it apologised for the "regrettable incident".
"We are working with the local authorities concerned, to clear up the oil as quickly as possible.
"We continue to work with the Harbour Master and are diligently checking surrounding areas," it said in a statement.
Related Internet Links
The BBC is not responsible for the content of external sites.