Eight killed in northern Iraq suicide bombing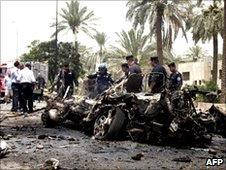 Eight people have been killed, including six policemen, in a suicide bombing at a market in the northern Iraqi town of Shirqat, police say.
Ten people were injured in the attack.
Police said the bomber set off a vest full of explosives among a crowd which had gathered to inspect the site of a roadside bomb which had gone off minutes earlier. No-one was hurt in the earlier blast.
Twenty-six people were killed on Sunday in Baghdad in a double suicide bombing.
More than 50 others were also hurt when two cars exploded simultaneously outside the Trade Bank of Iraq's headquarters in the Yarmouk district.
There has been increased unrest in Iraq since March's parliamentary election.
The poll produced no outright winner, and a deal between the various parties to form a coalition government has not yet been reached.