Scottish road casualties 'lowest in 60 years'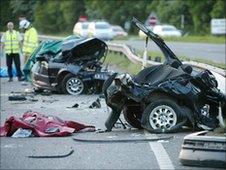 The number of people injured on Scotland's roads has dropped to its lowest level in 60 years, new statistics have suggested.
Provisional figures for 2009 showed the total number of casualties fell by 4% to 15,013 - 575 fewer than 2008 - and the lowest since 1949.
The number of people killed on the roads also fell by 20%, to 216.
The only categories which showed a year-on-year rise were motorcyclist fatalities and cyclist casualties.
According to the statistics, 2,269 people were seriously injured on the roads in 2009, which is 301, or 12%, fewer than 2008.
A total of 12,528 people were slightly injured, 2% fewer than 2008.
There was also a 13% drop in the number of children injured in 2009, compared to the previous year. Five children died on the roads last year, 15 fewer than in 2008.
There were fewer fatalities and casualties among drivers and pedestrians in 2009, but more motorcyclists were killed on Scotland's roads.
In total, 43 bikers died in 2009, nine more than in 2008.
Just over 800 cyclists were injured, 10% more than the previous year.
Five cyclists were killed last year, four fewer than 2008.
There was a 20% year-on-year drop in the number of bus and coach passengers injured in crashes, according to the figures.
Transport Minister Stewart Stevenson said: "This is a welcome drop to the lowest number of casualties for 60 years, continuing the downward trend witnessed in recent years.
"The number of deaths, and in particular those of children, fell last year.
"This is an area on which we have particularly focused over the last three years and we'll continue to work with schools, councils and the police and other partners to minimise the number of children and young people involved in road accidents."
Kathleen Braidwood, road safety officer for RoSPA Scotland, said: "Since June 2009, when Scotland's Road Safety Framework to 2020 was launched, there has been an increase in different agencies working together to reduce deaths and injuries.
"The provisional casualty figures published today show the value of this type of partnership working.
"Road safety is everyone's responsibility and I hope that the current momentum continues so we can prevent even more needless suffering in future years."
However, she added that the number of cyclists injured was now at a "disappointing" 10-year high.
Related Internet Links
The BBC is not responsible for the content of external sites.