Kevin Costner helps clean up oil spill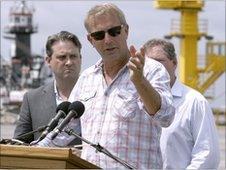 Film star Kevin Costner is to play a part in cleaning up the oil spill off the Gulf of Mexico.
BP says they will be using 32 oil separation machines owned by Costner's company to clean up the water.
Costner invested $20m (£13.46m) developing the machines, which can clean up to 210,000 gallons of oily water a day.
"I didn't come here to save the day," Costner told reporters. "I have come to participate."
BP agreed to use the 2,041kg machines, which separate oil and water using centrifuge technology, following testing last week.
Costner developed the devices through his company, Ocean Therapy Solutions.
Once the machines have separated the oil and water, the oil is stored in tanks. Officials say the devices can process 600,000 gallons a day, achieving 99 per cent purity levels without the use of chemical or biologic agents.
"This machine was designed... to fight for you," Costner said.
"It was designed to give us a fighting chance to fight back the oil, before it got us by the throat."
Thousands of barrels of oil are still leaking into the Gulf in what many are calling the worst environmental disaster in US history.
A containment cap and another device are capturing some 25,000 barrels of oil a day, but the latest estimates suggest 35,000-60,000 barrels a day are spewing out.
The Deepwater Horizon rig exploded on 20 April, killing 11 workers.
BP has faced mounting criticism for its handling of what has become the worst environmental disaster in US history, as the leak continues to spread despite efforts to contain it.
Related Internet Links
The BBC is not responsible for the content of external sites.