Ex-ICI food firm sold for $1.3bn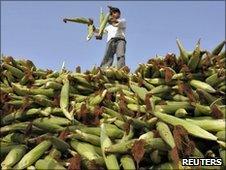 A US food innovation firm that used to be part of chemicals giant ICI has been sold in a $1.3bn (£877m) deal.
National Starch, which makes many of the fat replacers and thickeners used in processed foods, is being bought by Illinois-based Corn Products.
Purchased by Dutch firm AkzoNobel as part of its acquisition of ICI in 2008, the business includes a technical support centre in Manchester.
Tate & Lyle had been seen as a possible buyer of National Starch.
It had sales of $1.2bn in 2009, employing 2,250 people on 11 plants in eight countries.
Corn Products said its purchase gave it access to new markets such as Europe, as well as getting greater scale in markets where it already operates.
Meanwhile AkzoNobel said the deal would strengthen its balance sheet and help it to fund "selected acquisitions".
Related Internet Links
The BBC is not responsible for the content of external sites.