Meerkat pups born at nature park in Galloway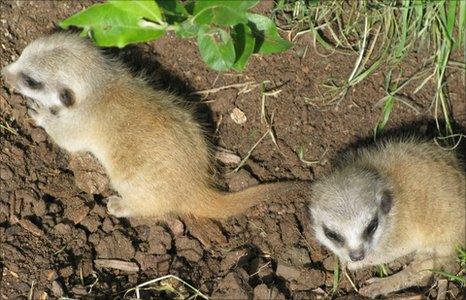 A pair of baby meerkats is proving a major attraction at a Scots wildlife park after becoming the first pups to be born there for four years.
The new arrivals at Galloway Wildlife Conservation Park have just been brought to the surface of the meerkat enclosure by their mother.
The first three weeks of their lives have been spent underground in their burrows under her protection.
A park spokesman said they were "extremely thrilled" with the births.
The babies are a result of a new breeding programme following the death of two older meerkats last year.
Conservation manager John Denerley said the meerkats were not yet old enough for their sexes to be determined but would mature quickly as they reach adulthood in just 12 months.
"They spend the first six weeks of life totally dependent on their mother, but will then quickly acquire a taste for worms and grubs," he said.
"The adult members of the colony will act as babysitters and teachers showing the newcomers how to forage and find foods, while visitors will also see the new play-fighting as they learn together and grow stronger.
"I'm extremely thrilled, I'm over the moon, I've been waiting for this for quite a long time now."
Related Internet Links
The BBC is not responsible for the content of external sites.