Profile: Christine Bleakley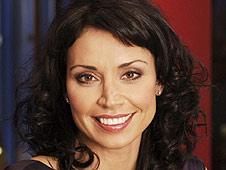 Television presenter Christine Bleakley's departure from the BBC has ended weeks of speculation about her future on the cosy and popular teatime programme, The One Show.
The star is set to be reunited with her former co-host Adrian Chiles on the GMTV sofa when it relaunches later in the year.
The 31-year-old, from Newtownards in Northern Ireland, has been a regular presence on national TV since filling the gap vacated by Chiles' original One Show partner Myleene Klass in 2007.
It marked a rapid rise for Bleakley, whose highest-profile job to that point had been on short-lived BBC Two talent show Let Me Entertain You.
Her partner in crime for this light-hearted, daytime variety vehicle was entertainer Brian Conley.
Bleakley cut her broadcasting teeth in Belfast, training as a floor manager as a teenager and later dropping her politics degree in favour of working full-time at BBC Northern Ireland.
She moved into presenting and newsreading at local radio station Citybeat, but her big break came in 2003 when a BBC manager in Belfast asked her to step in front of the camera.
A wide variety of local TV vehicles for Bleakley followed, including a cookery programme, zooming over Northern Ireland in a helicopter in Sky High, and fronting Children In Need coverage.
In 2007, her profile rose further when she took her place next to Adrian Chiles.
The pair's on-screen chemistry and affable style proved an enduring hit with viewers, and a boon to The One Show's ratings - adding around 700,000 viewers in their first year.
Tabloid papers speculated that their relationship extended beyond the studio, but it later emerged that Bleakley was in a relationship with Chelsea and England footballer Frank Lampard.
She took her place on the club's victory tour bus after they clinched the FA Cup and Premier League titles last month.
As Bleakley became a primetime fixture, she grew into a BBC star, taking part in the 2008 series of Strictly Come Dancing with some success - and often capturing the public vote.
She threw herself gamely into the BBC's Sport Relief fund-raising effort, waterskiing across the Channel earlier this year, despite being a weak swimmer and admitting to a fear of water.
Bleakley also made a series of films for Comic Relief from Uganda, meeting a teenage girl whose parents had been claimed by Aids who was bringing up her siblings alone.
But it was her daily presence on the BBC's light-hearted magazine show, with its mix of celebrity guests and issue-led reports, that won Bleakley a firm following.
The host's warm, relaxed style - and ability to laugh off Chiles' grumpy comments - have made viewers comfortable and familiar with her.
Indeed, she purports to be "boring" and ordinary, admitting to being "madly obsessed" with ironing.
But Chiles' swift departure just weeks ago led to mounting speculation that Bleakley was being wooed by ITV to join him on the GMTV sofa.
On his final show, the broadcaster saved his warmest tribute for the co-host he had firmly gelled with over three years of teatime TV.
''I don't know what I'll do without The One Show," he said. "It's been an absolute ball having to work with such great people and most of all Christine, obviously.''
Bleakley has since been joined by a succession of male co-presenters on the comfy One Show couch, but that special synergy has been noticeably lacking.
Comic Jason Manford had been named as Chiles' permanent replacement, seemingly a good match for Bleakley with his "likeability and natural warmth".
But Bleakley recently admitted that she had been "torn" between a lucrative offer from the BBC to keep her on side, and ITV's bid to lure her away.
The BBC could not wait for her to make up her mind, so her next move will be trying to replicate her special relationship with Chiles on breakfast television, a long way away from the cosy One Show settee.