Three Australians and US soldier killed in Afghan crash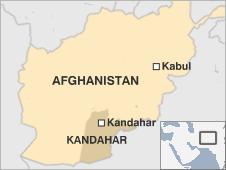 Three Australian commandos and a US soldier have been killed in a helicopter crash in southern Afghanistan, Nato officials say.
The crash happened at 0339 local time in Kandahar province. There was no indication of enemy involvement.
Australia's armed forces chief, Air Chief Marshal Angus Houston, said the three men killed were from the Special Operations Task Group.
It is the country's deadliest single incident in the nearly nine-year war.
Two other Nato soldiers were killed on Monday in separate bombings in the south, the alliance announced. It did not give their nationalities.
Seven Australians were also injured in Monday's crash. Two were said to be in a serious condition.
Air Chief Marshal Houston described the area where the helicopter came down as ''very rugged".
He said: ''It's demanding terrain for the helicopter, particularly if the weather wasn't 100%.''
The latest incident takes Australia's military death toll in Afghanistan to 16.
It comes just two weeks after two Australian soldiers were killed by a roadside bomb.
Australian Prime Minister Kevin Rudd said it was "a very heavy price to pay", as he paid tribute to the three men who died early on Monday.
''This is a tragic day for Australia and the Australian Defence Force,'' Mr Rudd told parliament.
He said the commandos had been involved in a recent operation that dealt a major blow to Taliban insurgents in northern Kandahar.
They had done previous tours of Afghanistan.
It comes as Nato is preparing for a major operation in Kandahar - the heart of the Taliban-led insurgency - this summer.
Australia has some 1,550 troops serving in Afghanistan.
At least 59 international soldiers, including more than 35 Americans, have been killed this month, making it one of the deadliest periods for international troops.
Meanwhile, the number of UK service personnel killed as a result of the Afghanistan conflict since 2001 has hit 300, after a wounded marine died in hospital.
Some 9,500 British military personnel are in Afghanistan as part of a Nato-led force.
Related Internet Links
The BBC is not responsible for the content of external sites.