Pakistan minibus crashes into truck, 17 killed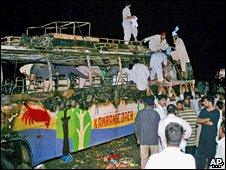 At least 17 people died when a passenger minibus rammed into a truck in the Pakistani province of Khyber Pakhtunwa.
The accident took place on the Indus highway in the Karak district. The bus was heading from Islamabad to Bannu.
Police say the driver of the minibus lost control due to overspeeding and collided head-on into the truck.
Most of the dead were residents of Bannu and Lakki Marwat districts. They included two women and two children.
Road accidents are common in Pakistan.
Most of them are blamed on bad roads and poor road safety arrangements as well as reckless driving by commercial vehicles.