Police chiefs head to Downing Street to meet Cameron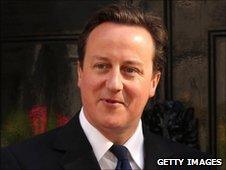 Chief Constables are visiting Downing Street to hear about government plans for directly elected commissioners to oversee the running of forces.
Officers from all 43 police forces in England and Wales have been invited to meet Prime Minister David Cameron.
He will say he intends to make the police more accountable to the public.
Ministers say that in return there will be greater freedom for the police, and their operational independence will not be compromised.
As part of a theme of encouraging local responsibility, the Conservative election manifesto had promised directly-elected police commissioners to hold forces to account.
BBC political editor Nick Robinson said Mr David Cameron is trying to woo Britain's most senior police officers and by inviting all the chief constables to visit Downing Street on Monday, his message is that he wants to work with them and not against them.
It is a charm offensive made necessary by the police's consistent opposition to the Conservative, and now coalition, plans for direct elections to hold local the police to account.
Chief constables are likely to suspend judgement until they see the detail of the government's plans, our correspondent added.
Related Internet Links
The BBC is not responsible for the content of external sites.