BP 'estimated higher oil amount' from Gulf well leak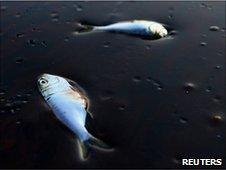 A BP document has revealed the company estimated that 100,000 barrels of oil a day could, in theory, flow from the ruptured Gulf of Mexico well.
That amount, included in an undated internal document released by US Congressman Ed Markey, is nearly twice the current US estimate of the leak.
BP says the 100,000 figure is not relevant as it is not based on reality.
US lawmakers have repeatedly accused BP of not being straightforward about the true size of the spill.
Mr Markey - a senior Democrat and chairman of one of the committees investigating the Gulf spill - said the document raised troubling questions about what BP knew about the size of the spill and when they knew it.
"First they said it was only 1,000 barrels, then they said it was 5,000 barrels, now we're up to 100,000 barrels," he told NBC's Meet the Press programme.
Mr Markey, who has been one of BP's fiercest critics over its handling of the crisis, said the figures indicated the firm was "either lying or grossly incompetent".
A BP spokesman said the claims were "misrepresenting" what the oil giant had said about the leak - the worst environmental disaster in US history.
BP says the worst-case scenario figure of 100,000 barrels a day was irrelevant because it was based on what might happen if the well's blowout preventer was removed, which the company had no plans to do.
Oil has been gushing into the Gulf since the Deepwater Horizon rig exploded off the US coast on 20 April, killing 11 people.
BP has agreed to put aside $20bn (£13.5bn) to compensate victims of the oil spill. It has also fitted a containment cap and another device to the well head, which are capturing an estimated 25,000 barrels of oil a day
Related Internet Links
The BBC is not responsible for the content of external sites.