UK time change 'would save CO2 emissions'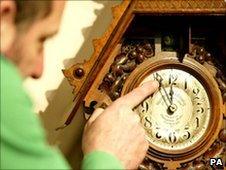 Moving the clocks forward one hour would save hundreds of thousands of tonnes of carbon dioxide each year, campaigners say.
A study for the 10:10 climate campaign suggested putting clocks forward during winter to an hour ahead of GMT could save almost 500,000 tonnes of CO2.
They say it would make evenings lighter and reduce peak electricity demands.
The study, conducted by Cambridge University, will be published in the journal Energy Policy.
Researchers say cutting carbon emissions by 450,000 tonnes would be the equivalent of taking 200,000 cars off Britain's roads.
10:10, which is running a Lighter Later campaign to have the clocks permanently changed, also say that continuing to move the clocks forward in summer, so they become one hour ahead of British Summer Time - two hours ahead of GMT - could also deliver carbon savings.
Dr Elizabeth Garnsey, who led the research for Cambridge University, said: "The carbon savings associated with this clock change are significant, equivalent to the carbon footprint of the production of 1,800 plastic bags for every home in Britain every year, or taking around 200,000 cars off the road."
The research will be presented at an event at Parliament on Monday.
Eugenie Harvey, director of the 10:10 campaign, which aims to get businesses, government and individuals to help cut the UK's emissions by 10%, said: "In the UK we love our long summer days.
"Lighter evenings make us happier, healthier and safe. After today the nights will start drawing in again. We're renewing our call to the government for a trial of Lighter Later's proposals.
"The research Dr Garnsey has presented only serves to strengthen an already overwhelming argument for change."
The Lighter Later campaign also claims that moving the clocks forward an hour all year could save lives on the roads because there would be fewer accidents in the evenings.
Campaigners also say there would be a boost to leisure activities, which would create jobs in the sector.
Related Internet Links
The BBC is not responsible for the content of external sites.