Tennent's secures jobs in Glasgow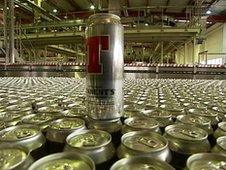 Tennent's Lager's new owners are aiming to expand sales to Scots exiles in Canada and the United States, as part of a marketing push.
Dublin-based C&C bought Scotland's dominant lager from Anheuser-Bush InBev in August last year.
It is now launching a new marketing campaign in the new home market, featuring the Tennent's heritage.
The company, which also owns Magners cider, is moving 23 jobs to Glasgow from Prague and Budapest.
Tennent's previous owners had centralised its back office operations in those cities.
The company is transferring 37 jobs in customer contact, which have been in Glasgow under A-B InBev, and will now remain in the city.
Under the agreement for last year's sales, both departments continued to be provided by Anheuser-Busch InBev - one of the global brewing giants - for the year following the August 2009 takeover.
The Scottish government's inward investment agency, Scottish Development Agency, has provided £245,000 to secure the jobs for Clydeside.
C&C has announced the jobs as part of a package to demonstrate its commitment to its new Scottish operation and Wellpark Brewery in Glasgow's east end.
It is expected the company will secure contract brewing agreements with some of its rivals, to diversify the range of Wellpark's products.
Managing director Mike Lees is also looking to innovate with Tennent's own product range and with services.
He has not been specific about which directions he has in mind, but there is speculation about speciality beers to compete with micro-breweries in premium markets.
Among the marketing initiatives is the first television campaign in four years, using the story of Hugh Tennent and the roots of the company in 1740. This is to be linked to outdoor billboards and online social marketing.
C&C has agreed a three-year shirt sponsorship deal with Rangers and Celtic, and it is investing £7m in new information technology to back up its distribution.
It also plans to increase loan finance to Tennent's customers, to help them acquire or upgrade pubs.
Mike Lees commented: "Tennent's and Scotland are synonymous and the investments we are making will help us to ensure that Tennent's Lager retains its market-leading position here.
"Tennent's acquisition by C&C Group has resulted in significant investment in the Tennent's brand and, while we are focusing on improving efficiencies through the synergies that the C&C Group acquisition has brought, the investment in Tennent's has never been stronger".
Deputy First Minister Nicola Sturgeon, who is a Glasgow MSP, said the securing of 60 jobs "will provide a much-needed employment boost and are particularly welcome in these economically uncertain times".
Related Internet Links
The BBC is not responsible for the content of external sites.