Time zone change to be considered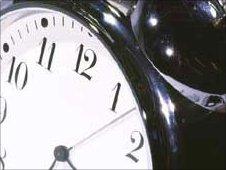 Ministers are to consider changing the UK's time zone so it matches mainland Europe.
Scottish Secretary Michael Moore said the UK government would discuss putting the clocks forward by one hour following a campaign by a Devon-based MP.
Liberal Democrat Adrian Sanders has tabled a Commons motion on the issue.
However, Mr Moore said he did not believe any change would be a "sensible or realistic" measure.
Speaking on BBC Scotland's Politics Show, Mr Moore said it was an issue the government took representations on regularly.
He said: "I do not believe separate time zones would be a sensible or realistic measure, not least as a Borders MP who works right beside England; I think that would be ludicrous.
"We need to keep listening to the arguments but I don't expect anything to happen very quickly."
The clocks are put back in autumn across the UK, providing more daylight in the morning for people in Scotland but making the evenings darker.
Related Internet Links
The BBC is not responsible for the content of external sites.