Formby beach drinkers tackled by police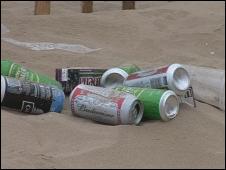 Police are stepping up patrols on Formby beach to stop gangs of drinkers from leaving their litter on the dunes.
Alcohol is banned on the beach, which is part of the National Trust nature reserve, but as summer has begun more people have been flouting the rules.
The trust, whose wardens and volunteers are picking up about 500 bags of rubbish a week, said litter louts are ruining the beach for everyone else.
Merseyside Police are determined to crack down on anti-social behaviour.
Its officers are using quad bikes and horses to get around the beach quickly, tackling not only drinking but also problems such as fighting and large groups of youths intimidating local residents.
Andrew Brockbank, Countryside Manager for the National Trust at Formby, said: "There was one particular Monday after the really hot weekend, when it looked like the beach was blister packed with bottles and bags and cans, and it really was astonishing.
"Our wardens and volunteers and helpful local people have picked up something like 500 bags a week during the hot spell."
Joe Atherton, Neighbourhood Inspector for Formby and Ainsdale, said: "We want the beach to be fun, to be accessible, but this isn't an area to be bringing alcohol to, and people should be expecting police to enforce the law.
"The main thing is to be able to get on the beach, and we have that capability very quickly."
He added: "It's actually a designated no-alcohol zone,
"People shouldn't be bringing alcohol to the beach, and if they do they should expect it to be seized by the police."
Related Internet Links
The BBC is not responsible for the content of external sites.