New Forest faces £200,000 government grant cut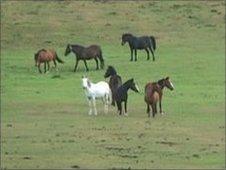 The New Forest National Park has said it can cope with a £200,000 (5%) reduction in its government grant.
The park authority said it has been preparing for a cut in the £4.4m grant from the Department of Environment, Food and Rural Affairs (Defra).
Chief executive Alison Barnes said a number of efficiencies have already been found over the past year.
She stressed the cut would not affect visitor services, events, ranger activities or educational visits.
She added: "We are obviously disappointed at the reduction in our grant but appreciate the difficulties being faced by all public bodies.
"We were anticipating cuts and have planned accordingly for this year to protect our delivery.
"However, it will be difficult to absorb any further reductions going forward without it having significant impact."
The 5% cut in grants applies to all English parks as part of the government's planned £6bn savings.
The park had to revise a number of controversial proposals last year, such as banning dogs from car parks, after protests.
Related Internet Links
The BBC is not responsible for the content of external sites.